A half-century in business is definitely a reason to celebrate – and we did plenty of that this year as Lloyd Companies marked its 50th anniversary.
"This was a huge year for us – historically and as we look toward the future," Lloyd CEO Chris Thorkelson said. "I think it's fitting that as we marked 50 years in business, we also achieved incredible milestones that will carry our family business forward for years to come. We're enjoying unprecedented building activity in the communities we serve, thanks to the amazing team we've built and continue to grow."
Time goes fast, though, so we thought it was worth a look back at the year that was and our top 10 favorite ways we marked our golden anniversary at Lloyd!
10. Telling Our Story
You can't spell history without "story," right? This year has given us a wonderful reason to share our story with the communities we serve – from our startup roots to our exciting growth.
You can explore it for yourself with an interactive timeline here, plus learn more about all that's gone on for our 50th year here.
9. $50s for 50 Years
Who says social media can't pay off? It did for 10 of our followers, who each snagged a $50 bill and box of 50th promo items in a giveaway we had fun running for our anniversary.
8. Looking the Part
This wasn't just any logo wear. We wanted to ensure our team members could sport this anniversary celebration in 2022 and beyond, so every Lloyd employee received a logo wear item as a gift to wear throughout this historical year.
7. Birthday Cakes … by the hundreds
When you celebrate your 50th anniversary and have more than 300 team members, one birthday cake isn't going to do it. So we gave a birthday bundt cake to each team member on his or her own birthday throughout the year.
6. Move-in Deal
There's so much demand for Lloyd apartments, we can barely keep up. But we still wanted to offer a little something extra, so during our April Parade of Apartments event, we reduced our application fee to $50 as a way to celebrate our anniversary with our newest residents.
5. Employee Celebration
We tore around the go-kart track, competed at miniature golf and won tons of tickets inside the new entertainment center at Thunder Road. We loved throwing an anniversary bash for team members and their families this spring so everyone could join in on the celebrations.
4. Partying at the Pavilion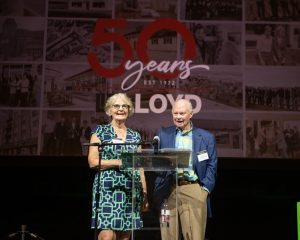 The Washington Pavilion played an especially fun role in our anniversary celebration. In August, we hosted our friends, investors, partners and vendors with live music, a commemorative video and a party to remember. We wanted to continue the celebrations with the entire community when we hosted a free day of fun for all by covering Pavilion admission on Saturday, November 12.
3. Cinematic Celebrating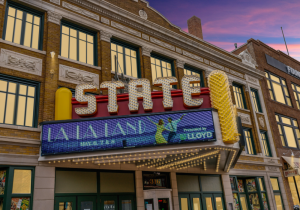 We love all things downtown Sioux Falls, especially historic preservation, so we wanted our community to get a look inside the beautifully restored State Theatre. From May through August, we worked with the theater to offer 50% off tickets for our 50th anniversary and a free popcorn on First Fridays to make sure as many people as possible could enjoy a memorable night at the movies. We enjoyed watching Forrest Gump, The Karate Kid, Superman and La La Land.
2. Giving Back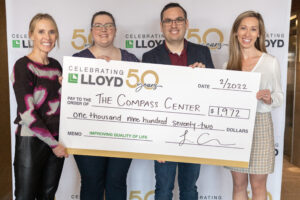 The year 1972 has been core to who we are at Lloyd Companies, and we made sure it was carried throughout the celebrations in countless ways this year. Each month, we chose two nonprofits to give a donation of $1,972 each based on community nominations. We gave out around $50,000 in celebration donations throughout the year to nonprofits in Sioux Falls, Rapid City and Cedar Rapids. We loved being able to support the amazing work that's being done to strengthen the communities we serve.
1. Collecting Memories
Fifty years produce countless memorable moments, and we've been doing our best to save them for future generations this year. We compiled symbols of our history in display boxes that will be "buried" in a special spot within our Steel District development downtown. This time capsule will consist of historical items throughout our 50 year history as well as a special time capsule of 50th anniversary memorabilia. Stay tuned for our 75th anniversary, when we plan to open them!
Thank you for helping us make 2022 an incredible golden anniversary! We look forward to celebrating many more milestone in the years ahead.