Some of the best views in downtown Sioux Falls will soon belong to Lloyd Companies with their newest development The Steel District.
C&B Operations Leases Top Two Floors
C&B Operations, LLC, is leasing the top two floors of the nine-story office building that's under construction adjacent to Falls Park.
"We're super excited and honored to be part of it," said Peter Burwell, CEO. "We're planning to grow and we want to grow in South Dakota and in Sioux Falls."
The company is owned by the Burwell family.
Peter Burwell, his wife, Ashley, and his brothers, Blake and Michael, moved from the Twin Cities to Sioux Falls last year. They've already leased office space in the CNA building downtown as they wait for their larger office to be done.
"We already have team members starting to call Sioux Falls home," Burwell said. "And we want to be where our team is. That's a big part of being a family business, and Sioux Falls also is centrally located to many of our stores."
C&B Operations was founded in 1988 in Gettysburg, S.D., when Dan Cronin and Rod Burwell purchased the local John Deere dealership to support the community after the owner suddenly passed away.
The company has grown to include dozens of John Deere dealerships in eight states including South Dakota. Last year, it expanded into a Material Handling and Powersports division with eight material handling locations in Iowa, Louisiana, and Alabama and one powersports location in Okoboji, Iowa.
The Sioux Falls office will serve as a base for the company's growing field support team, in addition to a place for leaders to collaborate, Burwell said.
"These are sophisticated jobs," he said. "It's accounting and finance functions, senior leadership positions, a customer support center and a precision ag and technology group will be based out of there, so it's literally anything that supports the field."
The downtown location will help the company grow with top talent, he said.
"In today's competitive work environment, having a nice office space is impactful. People are working from home and we want to give them a reason to come into the office," Burwell said.
The Burwell family and C&B will be a leader in that regard, said Kristen Zueger, who brokered the deal for Lloyd Companies.
"I think they're a perfect fit for the Steel District. They're still in the initial design of their space, but the thought that they're putting into it is so creative and different from anything I've seen in Sioux Falls. It's exceptional and unique, which is also what the Steel District is to downtown. They're going to be leaders in the building," she said.
"They've lived and worked in Minneapolis and have ideas we haven't seen yet. And they're young professionals who are going to bring an energy here that's really fun. From what I've observed, their culture is incredible. They're extremely collaborative, every person I have met is happy in their role and it's evident in every interaction we have with them."
The Burwells also have moved their parent company and family office to Sioux Falls. Their broader business portfolio includes everything from manufacturing to hospitality.
The lease is significant for The Steel District, which is experiencing strong momentum for all aspects of the development.
Remaining Availability
Lloyd is leasing the fifth and sixth floors of the building, leaving three, four and seven available plus potentially a spot on the second floor for a more public-facing office or service provider. Each floor is about 19,000 square feet.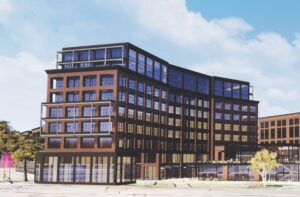 Adding Burwell is "huge for the project," Vice President of Development Luke Jessen said. "We were moving full steam ahead, but their energy behind the project and their expansion into South Dakota is a huge win."
Lloyd is in various stages of negotiating leases with strong momentum to continue to filll the building, he said.
"We have numerous proposals out right now and are in the final stages of negotiation with a lot of smaller tenants – 5,000 to 8,000 square feet – with anything and everything," Jessen said. "Law firms, trust companies, financial services, we have banks interested in a unique downtown branch, advertising firms, just a wide range which I think is very encouraging for the overall office market."
The first floor of that building will contain three restaurant concepts from well-known Twin Cities operator Josh Thoma, including Burger Dive, a Mexican-inspired restaurant and a seafood-inspired restaurant.
Tenants are expected to begin moving in throughout 2023. Learn more about The Steel District leasing and availability here.