There's simply no other location in Sioux Falls like it: This is your chance to live above or footsteps away from Falls Park.
The Steel District is offering its limited inventory of ground-level brownstone-style and sixth-floor condominiums for sale.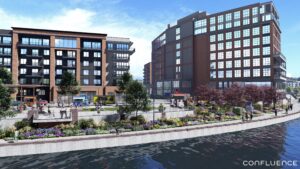 "This is a once-in-a-lifetime opportunity to get an address at the top of Falls Park," said listing agent Anita Wetsch of 605 Real Estate.
"We're so excited to make these available to those interested in a downtown lifestyle."
Residents can choose from five ground-floor brownstone-style apartments and 11 sixth-floor condominiums.
"The brownstones are two-story condos that face the riverfront and are convenient to the recreation trail and Kiwanis Park, nearby retail and restaurants and dedicated parking," Wetsch said.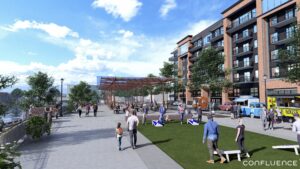 "The city will be completing the next phase of the River Greenway Redevelopment plan, and these units will be able to enjoy all the amenities of the newly imagined Kiwanis Park and access to the walking trails along the river.
The brownstone floorplans include one one-bedroom and four two-bedroom condos, ranging from 1,696 to 2,412 square feet that come as a warm, dark shell that buyers can customize.
The sixth-floor condos also are delivered as a warm, dark shell that buyers then can customize.  They will have individual and unique viewpoints of the Riverfront, downtown landmarks, Levitt or The Steel District development. The 6th-floor condos range in size from 1,162 to 2,368 square feet and larger units could be accommodated by combining units.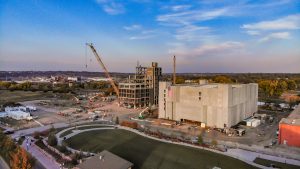 "We have sample layouts, but at this point, a buyer essentially can design exactly as they wish," Wetsch said.
"There has been a lot of interest in the project and so we encourage potential buyers to reach out for information," Wetsch said.
All condos have decks or patios and will include access to a state-of-the-art fitness center, secure and dedicated parking in the ramp, and an indoor-outdoor residents' lounge overlooking Levitt at the Falls.
"The parking ramp is complete and vertical progress is beginning on the wrap building, and we anticipate builders will be able to begin finishing condos by end of 2024," Wetsch said.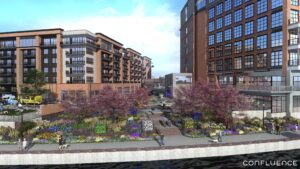 Bring your own builder, or we have a few relationships in place to assist if needed.
The condos will be connected to the mixed-use building, which includes multiple professional offices and three destination restaurants from Minneapolis restauranteur Josh Thoma, creator of Burger Dive and Smack Shack.
"Location is the No. 1 factor in real estate, and living at the Steel District is unparalleled in that regard," Wetsch said.
"Nowhere else can your neighborhood include the Big Sioux River, Jacobson Plaza with its ice ribbon and playground, Levitt Pavilion, and access to the unique boutiques, shops and eateries that make up the downtown community.   It's unique to this site and to downtown which is what makes it such an incredibly rare opportunity."
Prices for shell space range from $450,000 to $1,250,000. For more information, contact Anita Wetsch at 605.310.1481 or anita@anitawetsch.com.