Here's great news if you're looking for an affordable place to live: Not only are there choices across Sioux Falls, but you're probably going to be surprised with how much is included with your new home.
"People sometimes think there isn't any affordable housing available in our city, and that's definitely not true," said Brent Hamilton, compliance director and regional manager for Lloyd Companies.
"There actually are great options available now on the east side, the west side and downtown. We can help find out if you qualify and then get you moved into a new, quality home you're going to love. People have a certain image of what affordable housing is, and once they see these apartments they realize they're very nice places to live. We just need to make sure more people know about them."
Ready to learn more? Check out these homes that you could move into soon.
Brand-New Westside Homes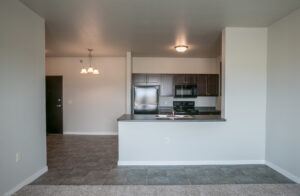 Want to live in a brand-new home on the growing west side?
Lloyd Companies' popular Technology Heights apartment community is growing, the new Technology Heights II apartment just opened for residents.
"These would be awesome for someone looking for a new apartment at a very affordable price," Hamilton said.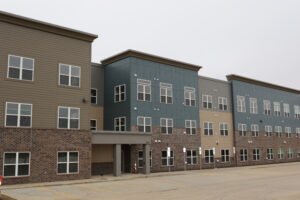 "They're near Southeast Tech and The Community College, so if you or anyone in the apartment is going to school part-time, they could be very convenient. Plus they're close to a lot of places to work on the west side. Single parents attending college full time also are eligible to take advantage of living and working close to home."
There are one, two and three-bedroom apartments available. Each one includes a washer/dryer and extra storage units are available if you need more space.
The building also has secured access and extras for residents.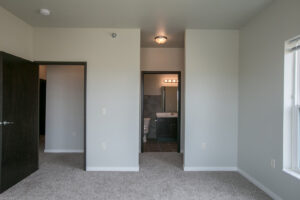 "You can use the community room, which gives you another place to hang out at home or host a gathering, and there also are computer rooms for the residents, whether your kids need a place to do homework or you want to get out of your apartment to work."
Like the location and want to save even more? There are some apartments from the first phase of Technology Heights still available too. You'll still enjoy the same extras but for even less.
Downtown Digs
Think there's no way you could afford to live downtown? We bet you could.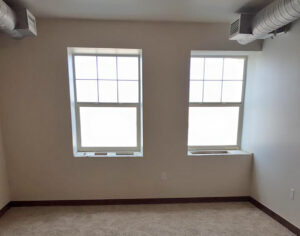 YMCA Apartments is truly one-of-a-kind, with two and three-bedroom apartments that have a character all their own.
"It's a really cool building," Hamilton said. "These apartments were renovated from the historic YMCA Center, so some of them even have original basketball court flooring and brick walls with exposed ductwork and original wooden beams. People are so surprised they can move into a downtown apartment like this at such an affordable rate."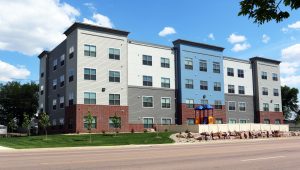 There's another great living option further north on Minnesota Avenue at Third Street. Minnesota Apartments have one, two and three-bedroom units available. Residents share a community and laundry room plus have secure access to the building.
"We believe downtown living should be for everyone," Hamilton said. "When you move into these apartments, you can walk to Falls Park and the free Levitt concerts. You can enjoy all the events and parades. And you're near lots of services, from medical care to public transportation."
Eastside Like-New Living
If your job, your kids' school or your friends are on the east side, there are some like-new affordable apartments waiting for you.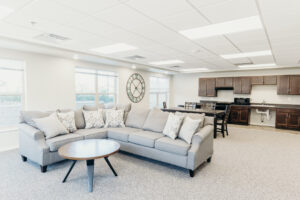 Midtown Heights apartments near Tenth Street and Cleveland Avenue have a few two-bedroom apartments available.
"These apartments just opened a year ago and have great access to all the businesses and development happening on the east side," Hamilton said. "Plus you've got washers and dryers in the apartments, extra available storage and a community and computer room for residents to use."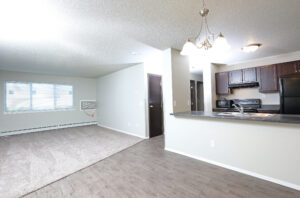 If you work farther north, consider Horizon Place Apartments at Fourth Street and Benson Avenue. They're perfect for people who want a quick commute and less traffic than other parts of Sioux Falls.
"These are large apartments – we have two and three-bedrooms plus a den. They were just renovated in 2017," Hamilton said. "Plus you've got a community room, laundry room, garages and a basketball court."
Affordable approach
These apartments are available to those whose income qualifies them. The program looks at your income and determines from there how much you can afford to pay for rent.
If you're not sure whether your income would qualify, reach out anyway because there's likely a fit in one of our apartments for you.
"We will work with you through that application process," Hamilton said.
"From there, we will be able to figure out what your rent payment will be and which apartment will be best for you. You'll enjoy lower payments, a quality home built just as well as any other apartment in Sioux Falls and a community where you'll get to know your neighbors and your property manager will be there to support your needs."
Ready to get started? Give us a call at 334-RENT and we'll take it from there!