Empire Place, the favorite spot for new national retailers, along West 41st Street has another delicious addition.
Crumbl Cookies will be opening its first South Dakota location in a retail center at Empire Place, joining long-requested customer favorites Chick-fil-A and Chipotle Mexican Grill.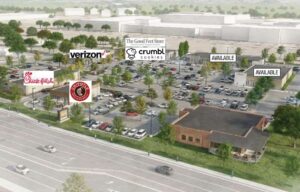 "Crumbl Cookies is such an exciting addition to Empire Place. We can't wait to introduce their outstanding cookies and ice cream to Sioux Falls," said Raquel Blount, Lloyd Companies Vice President of Commercial Real Estate, who represents Empire Place.
In just three years, Crumbl has grown to more than 75 locations and offers more than 100 rotating flavors – plus permanent fixtures like milk chocolate chip and chilled sugar cookie.
"We're super excited to serve and be part of the Sioux Falls community, where our store will be family owned and locally operated," Franchisee Brock Stokes said. "We hope to bring family and friends together over the world's best pink box of gourmet cookies just like it's done to ours."
Crumbl also offers a half-dozen signature ice cream flavors, including Biscoff and Churro. And their popular line of bite-sized cookies is perfect for parties and events.
"Empire Place is a perfect location for a brand like this that wants to make a big first impression in Sioux Falls," Blount said. "They will absolutely complement the mix of tenants we're assembling at this first-class development."
Chipotle Mexican Grill has started construction at Empire Place, and Chick-fil-A is expected to start next year.
"This is an ideal time for other retailers to begin planning their locations at Empire Place," Blount said. "It's clear the development is going to be a huge draw for customers, and we're still at a stage where we're able to make adjustments to our final plans to accommodate a wide variety of retailers' needs."
Interest has been significant, Blount added.
"Sioux Falls and South Dakota have proven incredibly resilient during the pandemic and retailers are taking notice. They understand this is an opportunity to come into our market and capitalize in a big way," she said. "We anticipate more announcements coming soon for additional development at Empire Place."
To learn more about locating at Empire Place, click here or call Raquel Blount at 605.728.9092.