Empire Place
The landscape has changed in front of arguably the most sought-after retail site in South Dakota.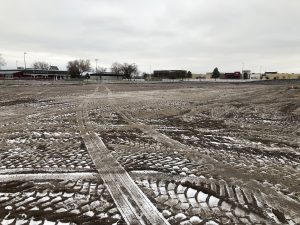 There's now bare land on the site of the former auto dealer in front of The Empire Mall, as construction has started for the first piece of what will become the Empire Place retail development.
"We had such a strong start to the year," said Raquel Blount, Lloyd vice president of commercial real estate, who is handling leasing for the property. "Within a matter of weeks, we were able to announce three new national restaurants coming to Sioux Falls, and our pipeline of interest in the rest of the center is incredibly strong."
While timelines still need to be solidified, and could change as retailers adjust to an unprecedented interruption in business, Empire Place is slated to become the future home of Chick-fil-A and Chipotle Mexican Grill.
"The response from the Sioux Falls market to these tenants was incredible," Blount said. "Everyone is trying to figure out timing and logistics for new store openings, but we're very confident we'll be able to update all of this in the coming months. And, we're actively pursuing development and negotiations on the remaining space and hoping we also can be making more announcements in the weeks ahead."
There is still actively across the commercial real estate sector, though many deals such as restaurants and salons that were solidly moving ahead have slowed because of the uncertainty in many industries.
"We have had a handful of office deals that we have completed and service-related businesses still actively pursuing options," Blount said. "We had a dental group that had always talked about a new building, and now that the office is closed it's perfect timing to go look at spaces. So we're getting some of that. If people are calling they're wanting to do something now. And we're continuing to close on things that have been in the works for a long time."
Dawley Farm Village
At Dawley Farm Village, multiple signed deals are expected to move forward with construction and opening. Jersey Mike's Subs recently leased its second Sioux Falls location there, Casey's General Store is under construction and Dakota Family Vision is retrofitting the former pizza restaurant. A new Glo by Best Western hotel is essentially built and just waiting on an opening timeframe.
"We have other parcels with significant interest," Blount said. "Again, it just make take somewhat longer than we originally anticipated."
Nationwide, there are projections showing a significant increase in store closings could be coming, she added.
"We are hopeful that the return to business in the coming months along with the incredible stimulus packages available to our small businesses will allow our market to protect the re-opening of our businesses."