JPMorgan Chase & Co. is entering the Sioux Falls market in a prominent way.
The company, which does business as Chase or Chase Bank, is building a full-service branch at Empire Place, the redevelopment along West 41st Street in front of The Empire Mall that also includes Chipotle Mexican Grill and Chick-fil-A.
"We're thrilled to welcome Chase to Sioux Falls, to South Dakota and to Empire Place," said Raquel Blount, Lloyd Companies Vice President of Commercial Real Estate, who represents Empire Place.
"This location provides them maximum visibility and exposure, given the dominance of this development in terms of traffic and draw not only from Sioux Falls but for those coming from the wider regional area."
The building will be 3,300 square-feet and include an outside designated ATM lane. Chase will be hiring locally for the new branch.
"The opening of our new branch represents Chase's commitment to serving the community of Sioux Falls," JPMorgan Chase spokesperson, Darcy Donahoe-Wilmot said.
"Chase has vast experience in helping consumers and businesses with their financial needs and our branch is proud to announce plans to join the community. Bringing branches to the area gives customers expanded access to our products, digital tools, and tailored in-branch experiences, like financial advice from short-term savings to retirement."
The space will be a modern, open and collaborative design intended to create seamless customer experiences. It will be efficient enough to reduce energy consumption by 15 percent and lighting-related consumption by 50 percent.
"We remain focused on helping families achieve affordable access to credit, and have recently created or enhanced products to meet the needs of more customers across the credit spectrum," Donahoe-Wilmot said.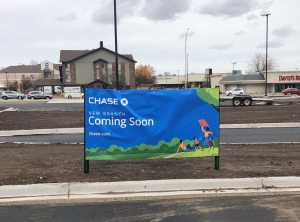 Chase will be located where Longhorn Steakhouse had previously planned to locate. The restaurant is no longer moving forward with expansions at this time.
"Activity continues to be good in terms of other interest in the development," Blount said. "We're working through several more potential leases with retailers who are looking for a new location and are absolutely considering Empire Place."
Chase will begin construction soon and plans to open next year.
"You'll see many buildings going up at Empire Place soon," Blount said. "We still expect Chipotle to open this year, Chick-fil-A next year and we have two additional retail buildings starting construction soon. There will be no shortage of activity on this site!"
The Empire Place development is owned by B&H Realty. For information on leasing, contact Raquel Blount at 605-728-9092 or view our listing.