There's no better way to mark a landmark year than with a big effort to make a lasting impact.
In honor of Lloyd Companies' 50th anniversary, we decided that every month of 2022 would bring new ways to give back to those who are doing incredible things in the communities we serve.
The original idea was to donate $1,972 – in honor of 1972, the year our company was founded – to two nonprofit organizations each month. That's in addition to our other deep commitments to philanthropy regionwide.
However, more than 800 nominations later, it became clear that the decision was just too hard to make.
"We had so many great applications and had so much fun with it that we ended up awarding 28 of our 1972 awards," said Mary Lloyd-Huber, who leads philanthropy for Lloyd.
"Each month we had an overwhelming response. Sometimes, the committee received more than 100 heartfelt nominations."
The voices that spoke the strongest were those of our own Lloyd team members.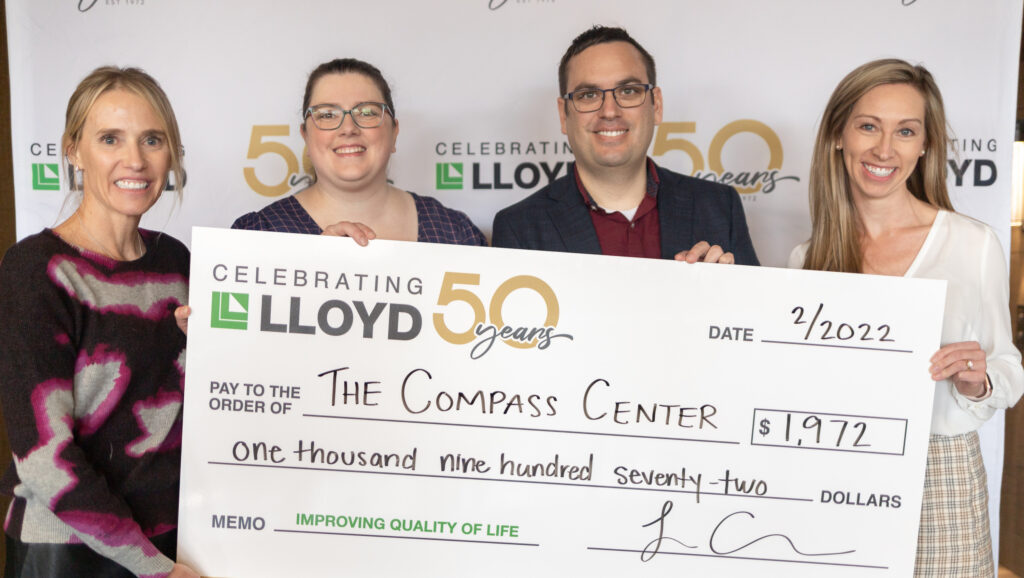 "That was the best way we felt to begin narrowing it down," Lloyd-Huber said. "We all learned so much during the process. We not only discovered organizations we never knew existed, but we met passionate people working for the good of others. And we grew to see and understand why our employees felt they were worthy of support."
The overarching theme from Lloyd team members involved organizations that support children.
As one employee said in a nomination: "Providing kids at risk, or kids that have no family, a safe, loving environment creates a better future for the child and, by extension, the community. Anything we can do to reduce children's suffering is worth our money, time and energy."
Lloyd-Huber agrees.
"If we can improve the quality of life for others, we all win," she said.
Lloyd Companies also awarded a special 1972 Spirit Award to Tre Ministries, which provides a positive and affirming environment and community for young adults.
"They had an amazing amount of nominations come in – and they were so creative with how they did it," Lloyd-Huber said.
Here's our full list of 1972 awards. Thank you to these and all organizations working to better our communities!
Children's Home Society – Making Memories Fund
Mitchell School District – Caring Closet Fund
The Family Visitation Center
The Compass Center
One Heart of Rapid City
Collisions of Sioux Falls
HDSA of SD
CASA
Sioux Falls Public Schools Education Foundation
Way Point Services of Cedar Rapids
Hope Coalition
The Glory House
The 487 Project – Helpline
Horizons
Feeding SD
Promising Futures
The Feisty Fighters
St. Francis House
Royal Family Kids Camp
The Foster Network
Lost and Found
Calm Waters
Bread Break
Brandon volunteer fire department
Sleep in Heavenly Peace Brookings
McCrossan Boys Ranch
Tre Ministries
The Helpline
For more on how we marked our 50th anniversary, click here!