Papa Woody's Opens
Pizza lovers from across the city will be lined up at The Cascade's newest addition when Papa Woody's Wood Fired Pizza opens today.
It fills a large space on the north end of the North Phillips Avenue boardwalk, with an expansive patio and greatly enlarged dining room.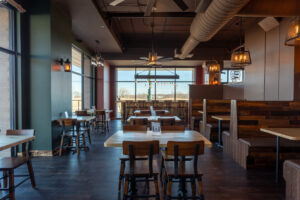 "We weren't looking for a new home. And they came to us and said, 'We'd love to have you.'" Co-Owner Lisa Esser said.
"One of the things that we love about The Cascade, really downtown, is the community involvement and feeling. When we came down to Cascade to check everything out, it just felt like we were already part of what was going on down here. I just feel like this was where we needed to be."
The owners already are looking forward to Levitt concerts this summer and the future crowds coming for the Jacobson Family Plaza and its ice ribbon and playground.
"In our first location, we were kind of tucked back in the corner, and I loved it. People used to joke that we were kind of the little hole in the wall that nobody knew about," Esser said.
"And I feel like we've made it out of the corner. The glass windows all the way around and the view, I feel like we're watching what's going on in our community now and being a part of it too."
Papa Woody's is bringing their signatures pizza, award-winning burgers, appetizers and a full bar menu to the new location.
"It's amazing. Just the exposure for The Cascade, in general, is going to be awesome," Regional Manager Nikki Johnsen said.
And for residents, it's even better.
"Papa Woody's will have access to the building, so they can deliver pizza right to the door for our residents," Johnsen said. "It's incredible they're willing to do that."
Cascade Commercial Space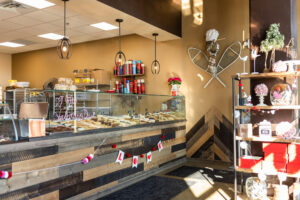 Another new opening, Mary's Mountain Cookies, also is bringing many new visitors to the building and providing residents easy access to delicious jumbo-sized cookies.
"We have people visiting now who didn't know The Cascade was here and then discovered everything else, so that's been fun," Johnsen said.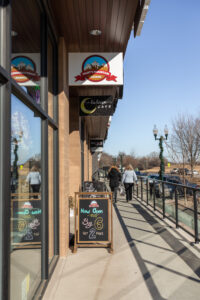 Papa Woody's opening means The Cascade's boardwalk is fully leased, with everything from a brewery to boutiques, cotton candy store to a café and convenience market.
"We're so happy with the tenants that have become part of The Cascade," said Raquel Blount, Lloyd Companies' Vice president of Commercial Real Estate.
"The mix of products and services is fantastic, both for residents, downtown workers and visitors. And this development is filled with local business owners who want to collaborate with one another and be part of everything booming downtown, so we think it's a fantastic mix and their early success bodes well for what's to come."
Cascade Lofts
The Cascade essentially is fully occupied in both buildings, which totals nearly 200 apartments.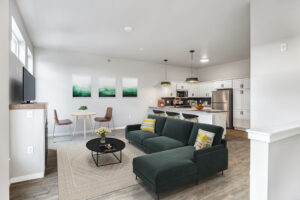 "We have only two or three lofts available. Otherwise, we're into April or May for the next lofts coming online," Johnsen said. "Everything rents fast. The studios are very popular but so are the townhomes because you don't find those downtown."
Residents also have built their own community here.
"They take it upon themselves to organize book clubs and host their own socials," she said. "They make friends with their neighbors, which is what's so great about it."
A number of residents also work from home at least part of the time. The Cascade, with multiple community gathering areas, easily offers space outside of your apartment for those trying to work in a different environment.
"There are a lot of people where that's just their new normal and it couldn't be more convenient than the Cascade to do that," Johnsen said.