Lloyd Companies is here to perk up your Tuesday – across two states and four communities!
Our apartment leasing team, known as 605-334-RENT in Sioux Falls, is covering the cost of your morning coffee throughout the markets we serve.
That means you'll drive away with a free drink on Teusday, Oct. 25 while supplies last in Des Moines, Sioux City, Sioux Falls and Rapid City!
"This has been such a fun way to say thank you in Sioux Falls that we decided to expand it to all the markets we serve," said Ashley Lipp, Lloyd Companies Vice President of Residential Property Management. "Many of our apartment communities offer free coffee on site, so we want to give our communities a sense of what our residents appreciate every day!"
Here's where you'll find free coffee waiting for you!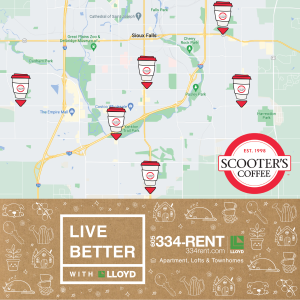 Sioux Falls – Scooter's Coffee
3650 E. 10th St.
3305 S. Sycamore Ave.
7710 S. Dakota Hawk Ave. (85th Street & Minnesota Avenue)
420 W. 33rd St
5009 S. Western Ave. (57th Street & Western Avenue)
6503 W. 41st St.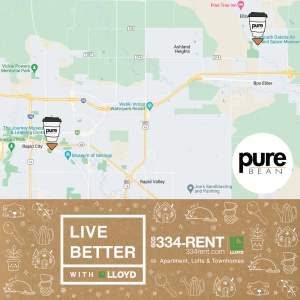 Rapid City – Pure Bean Coffee
201 Main St Rapid City
234 Main Gate Rd. Box Elder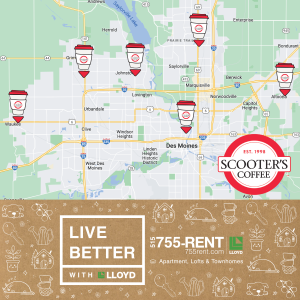 Des Moines – Scooter's Coffee
99 University Ave, Des Moines
6001 Merle Hay Rd, Johnston
709 2nd Ave SW, Altoona
125 SE Oralabor Rd, Ankeny
2810 SE Grimes Blvd, Grimes
122 Hickman Rd, Waukee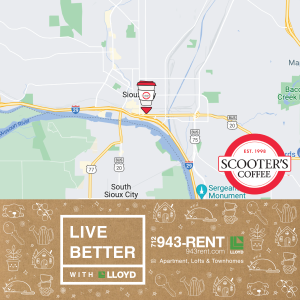 Sioux City – Scooter's Coffee – Friday, Oct. 28
Ready to find your next apartment, loft or townhome? Call 605-334-RENT or click here to get started.