Lloyd Companies is proud to announce a new partnership with Green Acre Companies to redevelop an underutilized area of south downtown Sioux Falls.
The City of Sioux Falls selected Lloyd and Green Acre's proposal for the site on First Avenue south of 12th Street as the one that best meets the goals of the 2025 Downtown Plan to increase density, connectivity and walkability.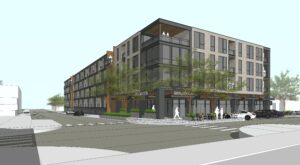 The proposal includes a four-story building with more than 150 apartments and more than 5,000 square feet of commercial space which includes a city parking lot. This plan will be supported by more than 120 new underground parking spaces as well as adjacent street parking.
"We're honored to build on the momentum for downtown as a whole and specifically this up-and-coming area of the city," said Josh Aberson, a Co-Developer and Green Acre Companies Partner.
Green Acre is a real estate and development company located in downtown Sioux Falls.
"We have a passion for downtown and are excited to be offering a design that focuses on traditional materials with some unique, modern applications to draw additional interest in the project," Aberson said.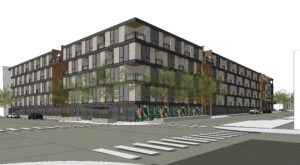 "You can expect to see spaces for multiple murals, reflecting the artistic vibe of the area and our commitment to supporting local artists."
Lloyd will serve as co-developer, general contractor and property manager for the project, which has not been named.
"Multifamily occupancy across the city continues to set records, but downtown residential units are especially in demand," said Luke Jessen, Lloyd's Senior director of Development. "As more retailers and office users commit to urban spaces, the need for housing downtown will only continue to grow."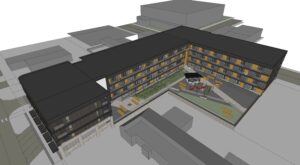 This project is unique in that it focuses on smaller units, with significant community space.
"Whether you're working from home or hosting guests, there is ample amenity space including an elevated central courtyard/patio space, workstations scattered throughout the property, as well as a community room for gatherings," Jessen said.
Retail will be focused along 1st Avenue to accent the 12th Street Pedestrian Plaza connecting the property to Phillips Avenue and to continue the 1st Avenue retail activity created by The Great Outdoor Store, Stogeez/Bin 201, and Ace Hardware.
"Retailers are finding growing success in this part of downtown, and we want to offer more space for that to continue as well as on-site retail our residents will enjoy," Aberson said. "We fully believe this project fulfills the city's long-term vision for downtown and look forward to the formal approval process."
This proposal was selected through a competitive process as the city sought to maximize its downtown surface lots. Selling the property will require City Council approval.
"We were pleased with the interest we received for this opportunity.  The Green Acre and Lloyd project was chosen to move forward because it provided the most density and scale for the site," said Jeff Eckhoff, the city's Director of Planning and Development Services.
"The 12th Street corridor has really developed in the last few years and this project will contribute to that growth and help connect other housing projects in that area to the heart of downtown. These new individuals and families will generate more activity for the surrounding businesses and add to the growing vibrancy of that neighborhood."
Assuming the City Council approves, Koch Hazard Architects will be finalizing design with the goal of beginning construction in the summer of 2022 and opening for residents in the first quarter of 2024.