Have you ever had home envy looking at those inspired modern farmhouse designs? That could be your next apartment when you move into this brand-new westside community.
Pre-leasing has started for Lloyd Companies' latest apartment and townhome community, The Silos at Ellis Crossing.
Located on the up-and-coming corner of 41st Street and Ellis Road, The Silos offers apartments and townhomes for a variety of lifestyle preferences and budgets.
Thirty townhomes will be the first to open, offering two and three-bedroom two-story floor plans with two-stall attached garages.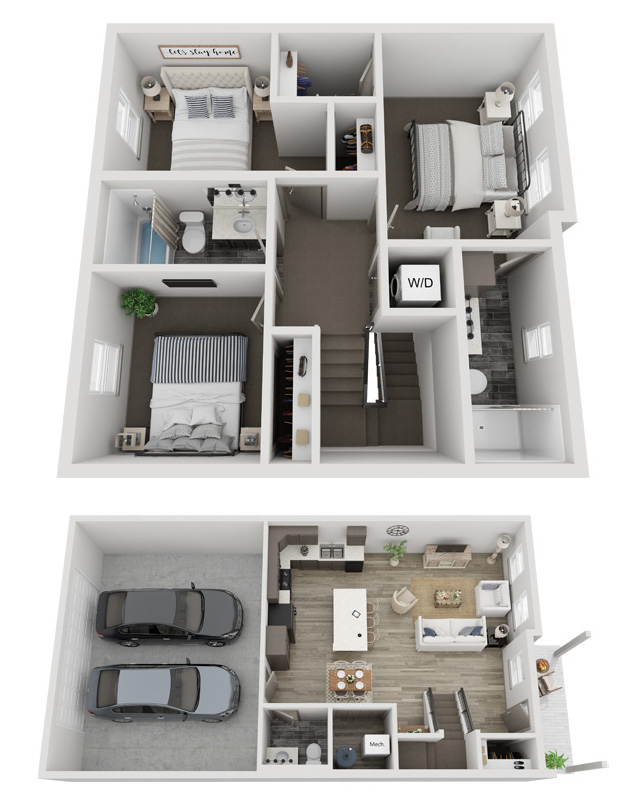 "It's the first time we've built this style of modern townhomes and from what we're hearing and what the market is telling us, I have a feeling those first two buildings will fill very quickly," Lloyd's Regional Manager Drew O'Brien said. "They have a lot of really cool features. And the three-bedroom has a semi-open staircase that creates a really unique design."
Townhome residents also will be able to use smart home features through a smartphone app, digital assistant or in-home touchscreen to control locks, light switches, the thermostat and security.
This fall, 72 more homes will be available in a more traditional apartment building layout.
The clubhouse will deliver "a lot of really cool Modern Farmhouse vibes, with red, black and white as the primary colors," O'Brien said. "Plus the outdoor space will feature a zero-entry pool, firepit and outdoor kitchen."
The Silos' location in growing southwest Sioux Falls is an added benefit, he said. It's right next to Tea's Frontier Elementary, close to an expansive Sanford Health clinic, Lewis Drug and a newly-opened Fareway.
"That part of town has gone from zero to 100 miles per hour over the last 12 months it seems," O'Brien said. "We are seeing a ton of demand for townhome and apartment living, so we're hoping to hit every end of the spectrum in terms of available floor plans and pricing."
Ultimately, Lloyd plans to build 350 apartment homes at The Silos, along with new commercial space to bring more neighborhood shopping, services and dining options to the community.
"We'll base our second phase off how this first phase leases," O'Brien said. "We have the flexibility to mold our additional offerings to what the market demands. But if you are interested in one of these first apartment homes, we encourage you to reach out right away because we are certain the demand is going to be big."
Ready to see The Silos for yourself? Call 334-RENT and we'll take it from there!