We knew there were a lot of fans of the modern farmhouse look – and the success of our newest community definitely proves it.
The Silos at Ellis Crossing is located at 41st Street and Ellis Road. Its modern farmhouse aesthetic has proven to be an immediate hit with residents.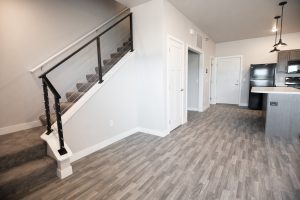 The first 14 townhomes were spoken for nearly as soon as they started leasing back in April.
"They're one-of-a-kind: Farmhouse chic and modern," Silos Property Manager Karlie Frost said. "I've never seen townhomes like this before in Sioux Falls. It's unique and fits the vibe of our community, and it's in the perfect location."
Residents are loving the growing westside and easy access to Tea's elementary school, she said.
"The school is right across the street, there's a lot of new developments around us, but you feel like you're somewhat outside Sioux Falls," Frost said. "At the same time, you're 10 minutes from the mall."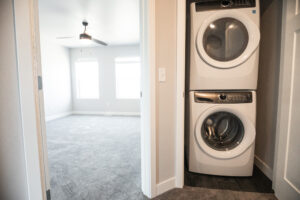 Apartments and townhomes at The Silos feature patios or balconies, large closets and efficient appliances including washers and dryers.
"The light fixtures really stand out in the design," Frost added. "They're different from anything I've seen."
Amenities include a clubhouse also designed in a modern farmhouse style, with a community room, pool, Starbucks coffee bar, fitness center and a secured package room.
Outside, "the pool is going to be unique," Frost said. "It will be in between two apartment buildings, so it will feel resort-like, with an outdoor kitchen and fire pit."
The clubhouse is scheduled to be completed by the end of September and the outdoor amenities will open in the spring.
The first townhomes at The Silos were filled up in two weeks, and the next phase will be an additional 16 townhomes – a combination of two and three bedrooms. They will be available in early October but leasing hasn't started yet.
In late October, the Silos will also be adding a new three-story building with 36 one, two and three-bedroom apartments.
And more buildings will be coming after that. So reach out soon, because there continues to be strong interest.
"Our residents like the style. They like the location, and it's something Lloyd has never done before," Frost said. "Every day, we hear from people interested in the Silos. It's great to see how many people are excited about the location and where we'll be in the next few months."
Learn more about the Silos at Ellis Crossing and follow us to stay up to date on new building additions and pre-leasing.