The first hotel developed, constructed and managed by Lloyd Hospitality Group opened today in Cedar Rapids, Iowa.
"It's an opening day many months in the making and we couldn't be more excited to be bringing this property to this community," said Jennifer Seifert-Brenna, Vice President of Lloyd Hospitality Group.
The four-story, 100-room Hilton Garden Inn is located along a new interchange and a growing corridor of Cedar Rapids.
How it Started
Lloyd became connected to the property after building the new Fleet Farm store nearby.
"That's what prompted us to look at opportunities to serve the Cedar Rapids community," Seifert-Brenna said. "We started looking there in 2019 and I happened to cross this piece of land right after the interchange and Fleet Farm had opened. It was such a great property I thought for sure it wouldn't be available."
But it was available and quickly became the first hotel in the Lloyd Hospitality portfolio.
About The Hotel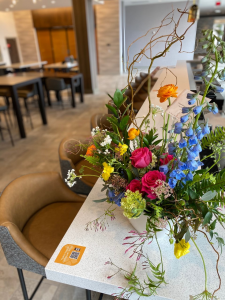 "It's the first new hotel by many, many years on the north side of town, so we're anticipating significant interest from both leisure and corporate visitors," Seifert-Brenna said. "We're already experiencing that interest in the form of sports teams, weddings and even business events booking."
Cedar Rapids is Iowa's second-largest city, at about 135,000 people, and has a significant youth sports visitor business, she added.
"The Hilton Garden Inn is very accessible to a major sports complex, and we already have blocks of rooms set aside for 30 events," she said.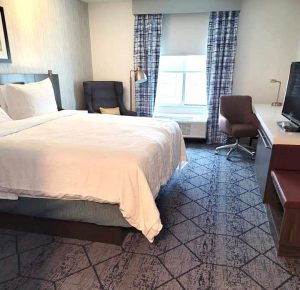 The hotel includes a restaurant and bar that is open to guests and the public, an expansive patio, indoor pool, spacious fitness center and a ballroom that can accommodate up to 250 guests banquet-style.
And as part of an overall Lloyd Hospitality Group initiative, this and other hotels will include a mother's room for nursing mothers attending events or otherwise visiting the property.
"I think it's an amazing new product for our market," General Manager Ginger Sickels said. "We've been getting lots of phone calls. People are really looking forward to having a Hilton Garden Inn in the market as well as adding a bar and restaurant for the public."
Sickels has spent 16 years in the Cedar Rapids hospitality market; Director of Sales Shaun Clasen has eight years of experience.
Overcoming Obstacles
"This wonderful opportunity knocked on our door during COVID," Sickels said. "It's great to be a part of opening this brand-new property. It's unique, one-of-a-kind and we can't wait to show it off to everybody."
While no one knew what to expect in terms of sales, there already are promising signs.
"A lot of people are reaching out, wanting to see the property. The wedding market continues to be really strong, sports, social events and even some corporate events are beginning to book, along with leisure travelers," Clasen said. "While the pandemic was so difficult for our industry, without it, I would have never met Lloyd Companies, Jennifer, Ginger, our amazing staff or had the ability to be part of something from the beginning. It was a gift I was given to be able to come here."
The Hilton Garden Inn had to overcome not just the pandemic but an unprecedented derecho in August 2020 just months from what was the planned opening.
As high winds and torrential rain pelted the hotel, the team had to contend with water pouring into the property.
"We were very lucky. There was no structural damage. And while it delayed us from opening, we feel like in the big picture our timing is an advantage," Seifert-Brenna said. "Now, to be opening a hotel in this environment is a good thing. We're in a location to drive group business. We're starting to see the corporate side bounce back, especially in the second half of the year, so we're opening just as the world is starting to get back."
While this is the first Lloyd Hospitality Group hotel to open, it's far from the last! Stay tuned for more hospitality updates in the weeks ahead.