Lloyd Companies has been selected by the city of Sioux Falls to develop a five-story, $43 million project downtown.
Lloyd plans to redevelop 2.5 acres between North Phillips and North Main avenues, and 2nd and 3rd streets, into a vibrant, modern area with living space, recreation, shopping and dining.
"This will be a legacy project for us, and we're honored to partner with the city to bring a new level of development to downtown," Lloyd CEO Chris Thorkelson said. "We believe we will create an experience for residents and visitors unlike any they've seen experienced in uptown before."
The plan includes two buildings with a mix of street-level retail, office space and apartments plus underground and street parking.
Elements of the project include:
•    20,000 square feet of commercial space along Phillips Avenue
•    apartment homes
•    260 underground parking spaces spanning the entire site
•    50,000 square feet of outdoor common space featuring amenities and landscaping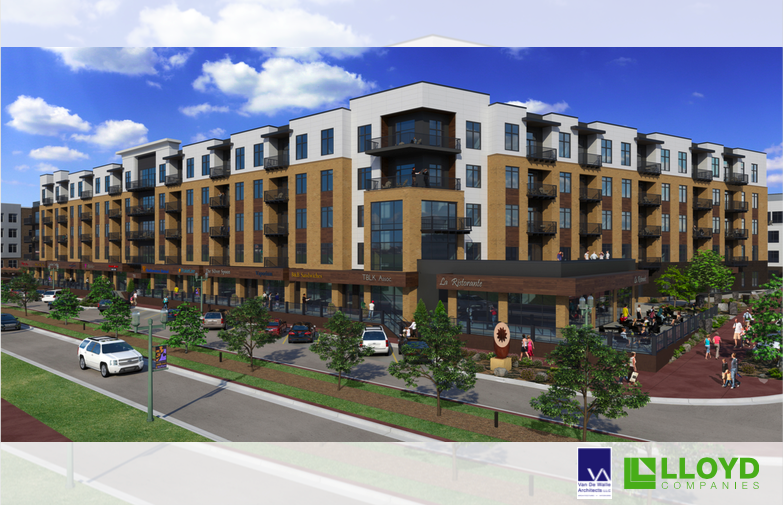 "This project will bring a level of living beyond what is currently available in downtown Sioux Falls," said Erica Beck, vice president of development for Lloyd Companies.
"Our residents will be able to enjoy an outdoor swimming pool, a beautiful courtyard designed for outdoor dining and recreation and some unique, fun features that will be announced as design progresses."
Following city approval, Lloyd hopes to start construction of the first phase along Phillips Avenue this fall and open the first building in late spring of 2019 prior to the first outdoor concerts across Phillips Avenue at the Levitt Pavilion.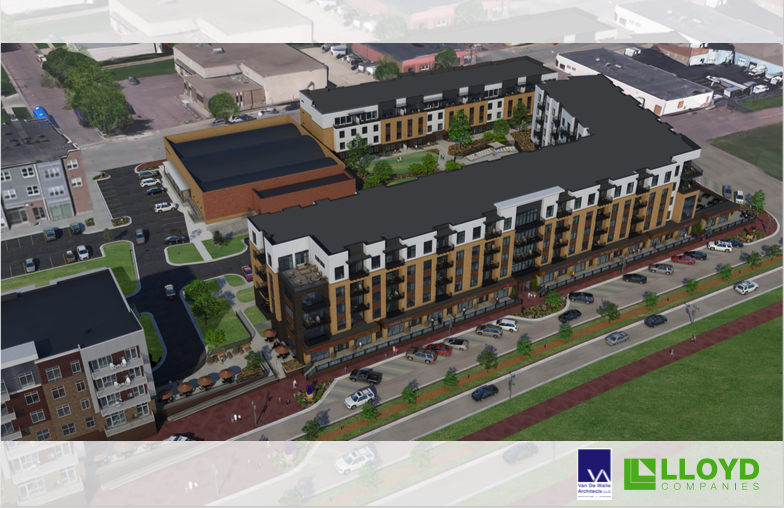 "This great investment will create exciting opportunities to live, work and play in our thriving downtown," said Daren Ketcham, the city's director of community development. "The quality and density of this development will transform this underutilized and blighted property into a downtown destination."
The Uptown project is the latest in two decades of downtown investment for Lloyd Companies, which has invested more than $100 million in downtown revitalization.
"We understand these can be challenging projects, but that makes them even more critical to tackle," Beck said. "Revitalizing our city core has a broader impact on our entire community. By combining our public and private sector resources, we are committed to creating a space that Sioux Falls will be proud of for decades."
Since completing Phillips to the Falls in 2004, several million in private reinvestment has been made downtown as the city has made land available. Lloyd Companies was proud to the develop several projects in the area, including the Phillips Lofts, Uptown Exchange, Larson Square and Tri-State Creamery building.
"We believed in the city's vision from the start and we feel fortunate to partner with them on this latest development," Thorkelson said. "The improvements that have been made so far have improved downtown immeasurably, and this next step for Uptown will be the biggest one yet."