When Worthington Minnesota-based First State Bank Southwest began its Sioux Falls expansion, the bank needed to build relationships before it built a branch.
One of the first was with Lloyd Companies.
"Coming to town, we didn't have a ton of contacts built up, but I was introduced to Lloyd Companies very early on, and Lloyd has a reputation behind their name and right away we felt like they had the expertise," Market President Jordan Huisken said.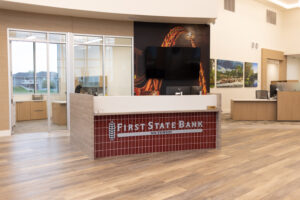 Working with Jordan Rieffenberger, Lloyd's Director of Commercial Real Estate and Responsible Broker, First State Bank Southwest began looking for its first location.
"We came into the market with some preconceived ideas," Huisken said. "We felt like we wanted to be on East Tenth Street or downtown and we were looking at getting into some sort of leased strip mall endcap and eventually grow into our own facility."
Rieffenberger helped the bank reconsider the approach.
"He challenged us with the idea of what it would look like to own our own facility," Huisken said. "The amount of existing options with a drive-thru was minimal and after seeing the numbers we realized it was almost more costly to lease the square footage. So the expertise he brought in laying out options ultimately shifted the conversation to finding a lot."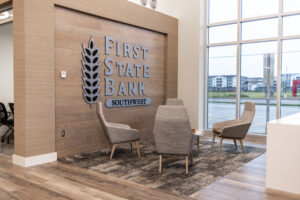 The process involved numerous meetings to introduce the bank to the Sioux Falls market and determine its needs and wants for a location, as well as video conference calls and market tours to narrow down sites.
"It finally came down to the bank wanting to be a part of the major growth that has been happening and will continue to happen on the east side of Sioux Falls," Rieffenberger said. "The location of their branch on a corner lot was strategically selected to provide excellent exposure and visibility to East 57th Street, which is a commercial corridor that will continue to see traffic growth for years to come.
After looking at traffic patterns and other financial institutions nearby, the bank settled on a location in southeast Sioux Falls at 57th Street and Graystone Avenue.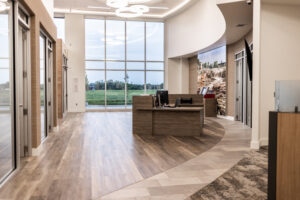 "We like the idea of not having any sort of frontage road and being able to turn right or left out of our facility," Huisken said. "And then the Highway 100 project came out and really laid out the progression for the next couple years, and that was exciting because we know that will drive more traffic and businesses to this area of town."
The Lloyd team, including Project Executive/Estimator Justin Pittmann, helped the bank refine its plan for the site.
"Justin really helped us as we were looking for lots. He was the driver getting us rough estimates, cost estimates for different floor plans and you can tell he does this a lot and has a really good grasp on the numbers," Huisken said.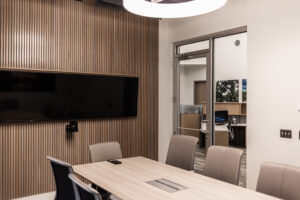 "Then with construction, we didn't even consider looking elsewhere. The service we were provided searching out a lot allowed us to swing right into construction and we lost no time. Everyone was on the same page and it really was seamless. We knew it could be hard to get certain materials and products furnished but we felt Lloyd would be able to make things happen and not every construction company would be able to."
The bank bought the land in November 2021, and Lloyd Construction began to work the following month. Project Manager Robert Rhody and Superintendent Tony Fulkerson took it from there.
"It ran very smoothly," Rhody said. "We had great owners and subcontractors to work with and it just made everything run really well. Tony did a fantastic job of heading off a lot of problems before they could even become problems."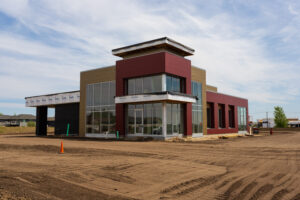 The exterior finishes of the building were higher-end and included a variety of metal panels.
The 4,400-square-foot building also included a drive-thru equipped with interactive teller machines that also are found in the lobby.
"I can't say enough good things about the job Robert and Tony did," Huisken said. "Everything came in right on budget and every time I had a question or wondered about something, they knew the project like the back of their hand, and if they didn't they found out and got right back to us. You hear a lot of horror stories about supply chain issues and we were very fortunate everything fell into place."
The branch includes space for five lenders, a credit analyst, four administrative assistances or universal bankers, plus a conference room, break room, safety deposit box room, backroom IT space and a vault room.
"We went with very tall ceilings because of the traffic count and because we see the facility being kind of like a billboard for us," Huisken said.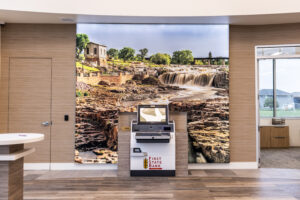 "So it gives a grand feel and then we have cool focal points like a 10-foot-by-10-foot light-up sign in our lobby that's a picture of the Falls downtown and you can see it all lit up through the glass windows at night. We also have a big wall that's the Arc of Dreams lit up and it really spurs conversations We wanted to incorporate the cool cornerstone features of Sioux Falls."
A ribbon cutting for the new branch will be held on Sept. 28 at 4:30 p.m.
"It's been a pleasure working with First State Bank Southwest," Rieffenberger said. "Their team is made up of some amazing people. I think when you look at the quality of their new building it makes a statement for the investment they are willing to make into our community and their customers for many years."