Lloyd Companies has begun construction of The Cascade, a new $43 million mixed use development in downtown Sioux Falls.
The project will transform 2.5 acres between North Phillips and North Main avenues, and 2nd and 3rd streets, into a vibrant mix of new living space, shopping, dining and recreation at the gateway of the city's namesake, the cascading falls of the Big Sioux River.
"This is such an exciting day for Lloyd Companies and for Sioux Falls. We're grateful to the city staff and elected leadership for partnering to make this collaborative vision a reality," Lloyd CEO Chris Thorkelson said.
"We chose to call this development The Cascade, because we think it captures what's going to occur in this area of downtown: a cascade of new residents, new businesses and visitor activity."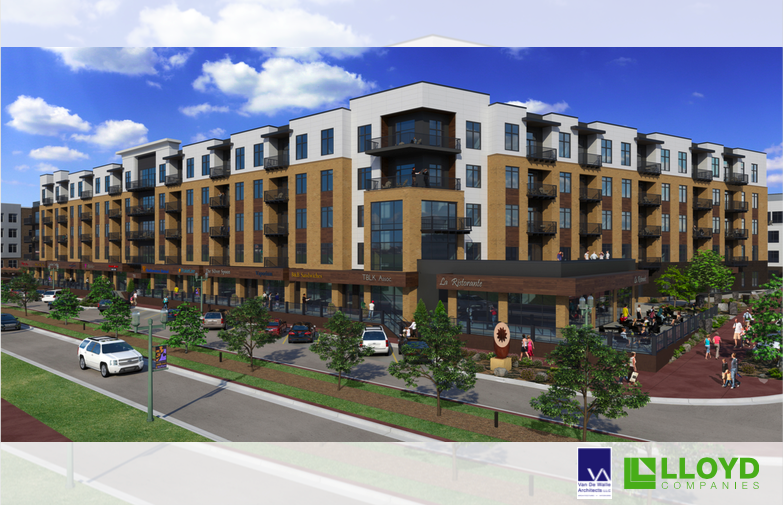 The project includes two buildings with a mix of street-level retail, office space and apartments plus underground and street parking.
Elements of the development include:
•    20,000 square feet of commercial space along Phillips Avenue
•    More than 200 apartment homes
•    260 underground parking spaces spanning the entire site
•    50,000 square feet of outdoor common space featuring amenities and landscaping
"Our residents will enjoy amenities unlike anything that's been offered so far downtown," Thorkelson said. "We know they will love the views of Falls Park, the outdoor pool, courtyard, and nearby dining destinations."
Lloyd Companies is purchasing part of the land for the project from the city of Sioux Falls.
"Lloyd Companies has found a way to continue to collaborate, build, dream and partner in such a grand way over the years, and this is going to be one of the biggest ones ever," Sioux Falls Mayor Mike Huether said.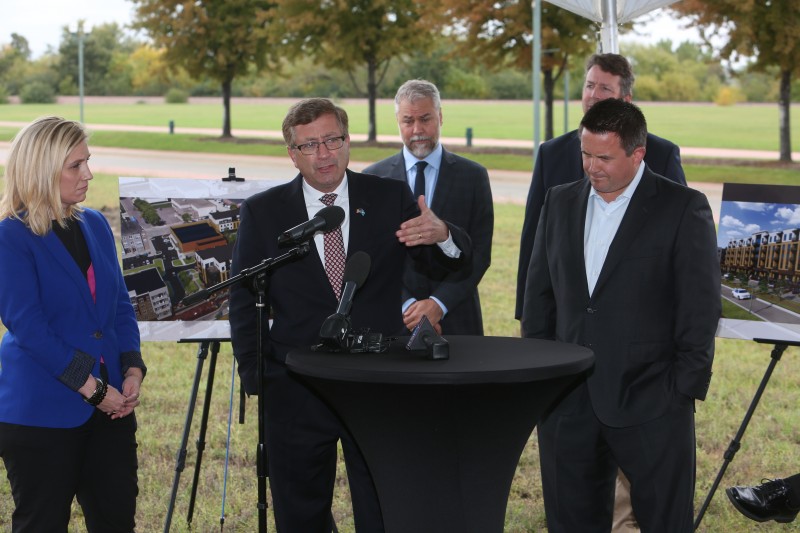 Demolition of aging buildings on the site is expected to be done within a week, and the hope is to open the first building in the spring of 2019 prior to the first outdoor concerts across Phillips Avenue at the Levitt Pavilion.
"Lloyd companies are reinforcing the vibrancy and vitality of our downtown," said Joe Batcheller, president of Downtown Sioux Falls Inc, calling the project "a tipping point for a plan that was set in motion over 20 years ago."
Work already has started to secure commercial tenants.
"We think the Cascade is a tremendous opportunity for businesses," said Raquel Blount, who is leasing the project for Lloyd Companies.
"We envision a destination restaurant that takes advantage of the nearby park and entertainment, a coffee shop, and retail space that will be supported by hundreds of people living in the area and many more visiting."
For information on commercial opportunities, email Raquel@lloydcompanies.com. Apartment leasing will begin closer to the project's opening. For information on currently available spaces, call 605-334-RENT or visit www.334rent.com.