Lloyd Companies broke ground on The VUE At Catron – the first of many multifamily housing projects in Rapid City, SD – at the end of July.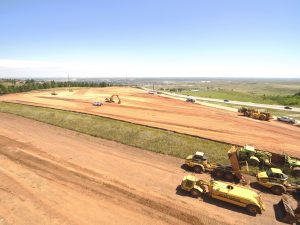 "Lloyd Companies is focused on making a meaningful contribution to Rapid City," said Luke Neely, Lloyd's Regional Development Director. "Our hope is to see all ships rise together as we grow our community and continue to make this a better place to live for years to come."
The VUE At Catron will feature 168 modern one, two and three-bedroom apartment homes with great amenities and a breath-taking view of the Black Hills. This community will have two 36-unit buildings, one 96-unit building, a clubhouse and an outdoor pool.
Residents will have access to many community amenities including a clubhouse with a community room, 24-hour fitness center, a courtyard with an outdoor pool, fire pit, outdoor kitchen, playground and dog park as well as on-site management, maintenance and package receiving.
"It is exciting to see this project coming out of the ground as we look at developing several more projects in our great community." Neely said.
The clubhouse is scheduled to open this winter. One of the 36-unit buildings will open in the spring of 2021, the next 36-unit building in the summer of 2021 and the final 96-unit building in the spring of 2022.
The VUE At Catron is developed, constructed, leased and managed by Lloyd. To learn more about leasing options, visit the website!