The nominations poured in, employees helped vote and now two deserving local nonprofits are taking home $1,972 donations.
That's in honor of 1972, when Lloyd Companies was founded 50 years ago. As part of its anniversary celebration, Lloyd launched a year of giving in 2022 honoring area nonprofits.
"It was clear right away that our community and team loved the idea of celebrating nonprofits all year through donations of $1,972," said Mary Lloyd-Huber, who leads family business philanthropy for the company.
"We'll be presenting 2 awards each month and can already tell that we'll have no trouble finding deserving organizations improving the quality of life in our communities."
The first two winning nonprofit organizations, Caring Closet and the Making Memories fund at Children's Home Society, received their donations today.
Caring Closet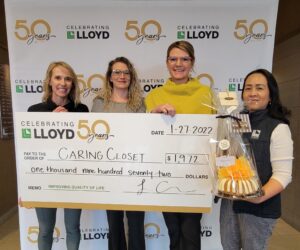 This Mitchell-based program connects clothes with those in need.
Founded by Jodi Reiners, it's located within the Mitchell High School but helps students of any age find any type of clothing, shoes or personal items they need.
"I worked at an elementary school in Mitchell, and while at school, a little girl's house burned down and completely destroyed everything," one nominator said. "By the end of the school day she had everything needed to be fully clothed for the next day and beyond! Her eyes lit up and we were so very thankful for this help in her time of need."
A newly added Mitchell Baby Closet also works with nonprofits to confidentially distribute newborn and preschool daily essentials to parents in need. Both programs are run entirely on donations and volunteers.
Making Memories Fund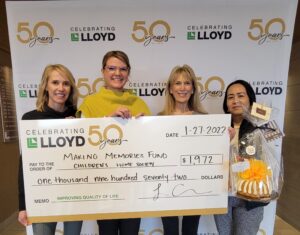 This fund is a special way that Children's Home Society allows kids from across the state to experience the same kinds of opportunities we would want for our own children or grandchildren.
For these kids, the fund provides the financial resources needed to create new, positive memories for children who often have been exposed to abuse, neglect, domestic violence or other trauma. That can include camps, lessons, outings and special activities.
Through this fund, CHS kids have enjoyed Taekwondo lessons, trips to the Omaha Zoo, travel to the Mall of America, Nickelodeon Universe and the aquarium.
"Both of these nonprofits are so deserving of our support and we're grateful to have them in our community," Lloyd-Huber said.
You can continue to nominate deserving nonprofits, and stay tuned to learn more about our winners in the months ahead! Nominations will be accepted through the end of this August.
To submit a nomination click here and fill out the form.