It's the perfect time to bring a new pet home for the holidays, and Lloyd's 334-RENT is helping make those homecomings happen with a special offer when you adopt from the Sioux Falls Area Humane Society.
From Nov. 7 through Nov. 20, 334rent.com will cover part of the cost of any animal adopted from the Humane Society. And there are many waiting for new homes right now.
"We have a lot of animals in our care right now, so we're really hoping people will come adopt," said Dana Konzem, Sioux Falls Humane Society Volunteer Coordinator.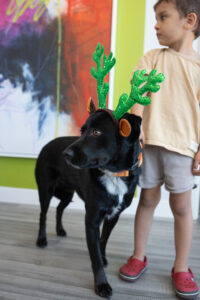 "On average, we have about 25 dogs in our care, and we're looking at 30 to 40 right now. Cats range from 60 or 70 to about 200 depending on the time of year, and right now we're sitting at 300 to 400."
There are small animals such as rats and rabbits available to adopt too.
All available animals are listed at www.sfhumanesociety.com and the list changes daily, so check back often.
You must schedule an appointment to come see an animal you'd like to potentially adopt through the Humane Society's website and allow 24 hours for scheduling. Hours for adoption are 11 a.m. to 6 p.m. daily.
"We are animal lovers and our residents are too," said Ashely Lipp, Lloyd's Vice President of Property Management, which manages the properties listed on 334rent.com.
"We have so many pet-friendly communities to choose from along with amenities such as dog parks in many of them that we wanted to make it even easier for our residents and our entire community to grow their households with a new pet."
Reduced adoption prices are:
Puppies: $150 instead of $200
Dogs older than a year: $45 instead of $95
Cats: $5 instead of $25
Small animals: Free instead of $5-20
"It's really nice when local businesses are able to help us recoup some of our funds when we do these adoption drives," Konzem said.
"And we know there are a lot of people living in apartments now that want a companion. When you adopt through the Humane Society, you don't have to worry about spaying or neutering or getting current on vaccinations right away, because it's all taken care of for you."
Click here to connect with the Sioux Falls Area Humane Society.
Looking for your next pet-friendly apartment? Call 334-RENT or visit www.334rent.com.