It's been a busy opening week for Northern Tool + Equipment – the first business to open at The Crossroads – and more activity is taking shape for the months ahead.
The Crossroads is a redevelopment of the former Gage Brothers Concrete Products on the southeast side of West 12th Street and Interstate 29.
"It's such a unique opportunity to locate a business within the heart of Sioux Falls and especially with interstate visibility," said Raquel Blount of Lloyd Companies, who represents the development. "It's a pad-ready development site with very sought-after exposure."
For Northern Tool, The Crossroads represented the chance to double in size from its prior location – which is already paying off.
"We have a lot of out-of-town customers who come in from the north and south and it's right off the interstate," manager Jared Bymers said. "This is such a visible spot, which has been great already."
Customers have been stopping in just to check the new store out – and they've ended up making purchases. "So that's been really nice," he said. "We've been getting calls from people every day asking if we're open yet and there's a lot of excitement around it." Northern Tool will hold a ribbon cutting April 1 at 11:30 a.m.
"Northern Tool is a great example of a retailer that will benefit from a location like this, and we're thrilled to see them having so much immediate success," Blount said. "We look forward to many more openings in the months ahead here."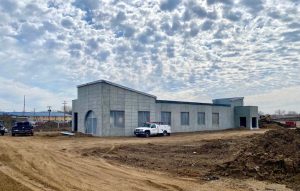 Silverstar Car Wash will be the next to open, with construction well underway. Starbucks will join the mix later this summer. And Voyage Federal Credit Union recently purchased land for a location that will relocate an existing branch.
"We're down to just one lot with interstate frontage, which we expect to draw substantial interest," Blount said. "And we are having discussions with hotel groups and corporate office users for much of the remaining property – with a little more than half the site still available."
Along with the rare opportunity to locate in a mature part of town adjacent to the interstate, the overall volume of activity nearby is significant. "West 12th Street offers what we believe is the highest traffic count in the state right now," Blount said. "So if you want to guarantee tens of thousands of vehicles will pass by your business each day, this is the place to be."
Would you like to bring your business to The Crossroads? Contact Raquel Blount at raquel@lloydcompanies.com or 605-728-9092.