For the last year, some of the city's most sought-after retailers have opened with one thing in common: Their location at Empire Place.
From Chipotle last December to Chick-fil-A late this summer, the redeveloped retail center in front of The Empire Mall has drawn an exciting mix of local, regional and national tenants – with more to come.
"It's been really rewarding to help bring such a strong mix of tenants to the project and to see their immediate success," said Raquel Blount, Lloyd's Vice President of Commercial Real Estate, who represents Empire Place. "We look forward to building on this throughout 2022."
Retailers such as Crumbl Cookies smashed opening weekend records at Empire Place. And even the CEO of JPMorgan Chase came to open the state's first bank branch here.
More recently, the two existing retail centers filled up with tenants.
Face Foundrie
Minnesota-based Face Foundrie is the latest to open – ready to take care of all your facial needs this holiday season and beyond.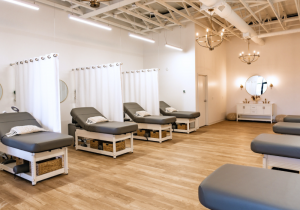 "We're an affordable, efficient, effective concept, and customers are finding us," co-franchisee Sherri Kanzenbach said. "What we're finding is a lot of it is word of mouth already."
Inside a simple, modern and airy studio, the business offers a variety of 40-minute facials along with eyebrow, lash and skincare services.
"Our goal is to help people feel good – because when you feel good you do good," Kanzenbach said.
Face Foundrie joins other retail center tenants already open including Buff City Soap, Crumbl Cookies, Glamour Nails and The Good Feet Store.
Next up:
Nautical Bowls, Pizza Shop and Verizon Wireless are scheduled to open early next year.
"Everyone I've talked to has been so nice, and I think we all feel like we're pulling the same customer," Kanzenbach said. "And we're excited to see what will go into the other retail buildings that are going up."
Those two retail buildings, which will mirror the two already built, are now drawing interest from tenants, Blount said.
"This is a center where the tenants truly complement one another," she said. "For the businesses, that creates a really valuable synergy. For the customer, it creates a lot of convenience and we hope repeat visits."
Interested in joining the retail mix at Empire Place? Contact Raquel Blount at 605-728-9092 or Raquel.blount@lloydcompanies.com