Last Wednesday Scott, Raquel, Jordan and I, along with two great clients/friends, jetted off to Chicago for the annual ICSC (International Council of Shopping Centers) regional Deal Making Conference.  As part of the Commercial Real Estate team, we were honored to represent Lloyd Companies while showcasing the greatness of Sioux Falls and the South Dakota region.
With a growth rate of 2.1%, the lowest unemployment rate in the nation at 1.9% as reported by CNN Money (2.9% lower than the national average of 4.8%), and a Sioux Falls Metro population of 256,250 +/-, it's no surprise that retailers continue to keep an eye on Sioux Falls.  Demonstrating a robust economy with top healthcare, a hub for several financial institutions, retail that attracts shoppers from a 4-state region, and construction numbers that continue to break records, retailer's interest in the area continue to escalate.  Investing in Sioux Falls is certainly appealing.
Taking off for Chicago shortly before sunrise and arriving back to Sioux Falls before sunset, we had a jammed-packed day of meetings. Fortunately, Raquel and Scott are seasoned experts at the deal making scene and lined up appointments to make the most out of our brief time in the Windy City.  Meetings range from initial introductions of a project to the final negotiation stages.  Most people are surprised that deals take place over several months, or even years, of conversations.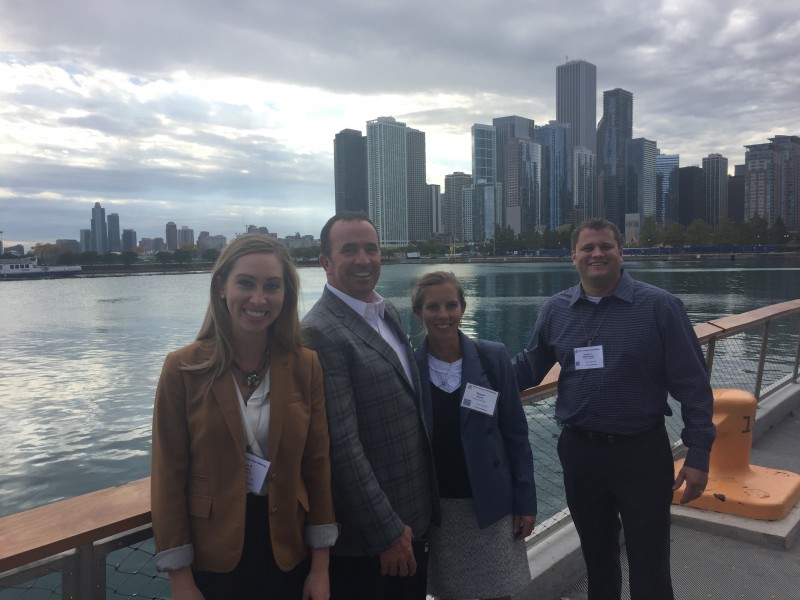 Touching base with other Brokers involved with the recently announced PetSmart at Dawley Farm Village, conversing with various restaurant groups looking to enter the market, and broadcasting development opportunities is a brief overview of the vast ground our team covered.  The conversations, excellent company and gorgeous fall day at the Navy Pier were highlights.  Events such as Chicago Deal Making help our team remain current on the latest trends, marketing ideas and "who's who" in the industry.
Stay tuned for upcoming announcements resulting from some of our meetings!  In the meantime, we will continue to make deals happen.