You'd never guess from the outside, but inside a nondescript warehouse on the edge of downtown Sioux Falls sits a small portion of an upscale hotel.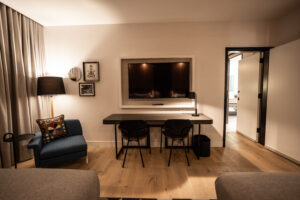 In preparation for bringing Canopy by Hilton to The Steel District, Lloyd Companies has built out two model hotel rooms, joined by a small sample hallway.
"We do this for a number of reasons – to ensure every room is built the same, so we can finalize furniture, fixtures and equipment before we've ordered enough for 216 rooms, and as a way to help introduce Canopy by Hilton to the community," said Jennifer Seifert-Brenna, Lloyd's Vice President of Hospitality.
"This is a lifestyle hotel that really caters to and is custom to the neighborhood. They're designed for someone looking for an experience, wanting to stay at a high-end hotel and spend time in public spaces and walk around the neighborhood."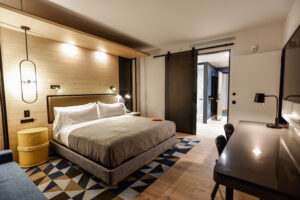 The model rooms give a glimpse at those unique, local touches.
"We're trying to bring Sioux Steel into this project as much as we can," Seifert-Brenna said. "In the guest rooms, as you move from the entry and bath into the bedroom, there's a large steel door like a barn door that can close off the bedroom from the dressing area, and it's made by Sioux Steel."
Additionally, the nightstand is designed in a Sioux Steel yellow with the manufacturer's logo.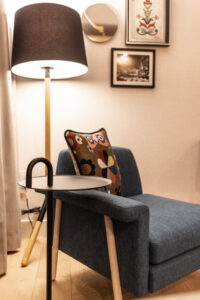 "And on the walls, we've brought in artwork and photos we took of Sioux Steel, in addition to archived documents such as a ledger and stock paper. We had it digitized and commissioned a Native American artist to draw artwork on top of the paper, which is traditional for Native American tribes. When they didn't have a lot of resources, they would take old paper and use it for artwork," Seifert-Brenna said.
The rooms themselves will be a mix of primarily king beds with some double queens, plus "a wonderful handful of suites on the corners of the hotel with balconies," she continued. "Several of those will close off at the end of a corridor with a private door so you can open up to four rooms as a private section."
Each guest room will have an uncloseted closet with lots of storage, great lighting and a separate space for a Nespresso coffee maker, a safe and a drawer refrigerator.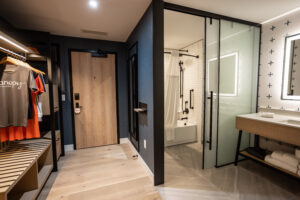 "Then you'll find a very bright, welcoming bathroom with a back-lit mirror, beautiful tile and a fairly open space, so the whole dressing area is more spacious than you would see in a normal hotel with a lot of room to move around and prepare for your day," Seifert-Brenna said.
"Within the room, you'll find high-end crisp, clean linens with a nice grey top sheet that gets cleaned with every guest."
There's also lounge furniture in each room plus an oversized "very clean-topped desk with dedicated outlets above," she continued. "And the head boards themselves have three-way light switching in them."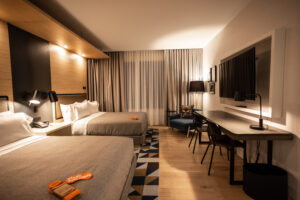 The model rooms allow designers to finalize things like colors and finishes, and catch needed corrections such as ensuring the right light bulbs are ordered for the lamps. There are other decisions to be made her too – going with shades or sheers, or irons or steamers, for instance.
"And we even use these rooms to test out which vacuums and cleaning supplies we should use," Seifert-Brenna said. "It's all about making the hotel set up process easier and more efficient operationally."
Subcontractors and vendors also can come look at the rooms to see how they're put together before installing elements such as electrical and plumbing.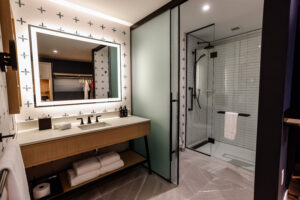 The public is being invited to tour, too. Lloyd Companies is starting with some invitation-only events but is planning to add some open houses.
"We want to introduce it to the market and get people familiar with it," Seifert-Brenna said. "We have events on the books now from 2024 through 2026, including some conferences that literally take the entire hotel while they're here, so we want others to come through and experience it and get excited about it."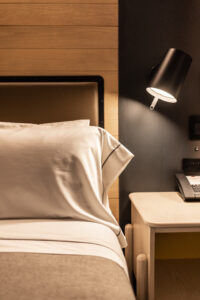 Design of the public spaces inside the Canopy is done. It will include a full-service Italian restaurant plus a bar/lounge, tons of indoor and outdoor gathering space and a 20,000-square-foot convention area with multiple meeting rooms and ballrooms.
Other special features include a mother's room for guests and a separate one for team members, a green room for entertainers or wedding parties getting ready, and a transfer lounge for guests wanting to spend time before a flight or before a room is ready.
"We're excited about all those little unique pieces," Seifert-Brenna said. "As we see the designs and the model rooms come together, the whole project is feeling more and more real and we can't wait to welcome the community inside in 2024."