When someone loves a job as much as Diana Arnold loves hers, it's contagious. And for Lloyd Companies, there couldn't be a better job to create that effect.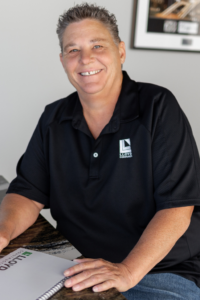 Diana is Lloyd's first full-time team member who solely oversees safety. She's held the role of Safety Director since 2019, after she joined Lloyd in an accounting role in 2006.
"To be honest, I've had a lot of jobs, but this is my favorite," she said. "It's the most passionate job I've ever had."
She grew up drawn to helping kids who were in trouble, earning a criminal justice degree and working with juvenile offenders and girls in gangs in Virginia.
When she returned to South Dakota, she drew on a work history from college involving serving as a chief operating officer for a business to connect with the opportunity at Lloyd. After a brief time helping with accounting and payroll, she found her true niche.
"I can safely say we have one heck of a safety culture," she said, pointing to a significant improvement in Lloyd's industry rating for safety that "they said can't go much better," she said. "It's just unbelievable."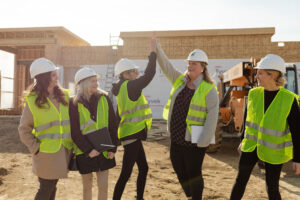 Her role is one of many for women in the construction industry, and this week marks Women in Construction Week.
"We love the chance to honor the many women in our company who support this industry. The reality is there are such a variety of roles related to construction that women are finding make outstanding career paths," said Becky Word, Lloyd Companies' Chief Of Staff.
"You might be helping develop new hotels, supporting the industry through accounting and legal functions, diving into analytics or becoming part of the architecture team – in addition to the field opportunities most people associate with construction."
For Diana, who recently joined the local chapter of the National Association for Women in Construction, it's been a clear evolution in the 15 years she's held the role.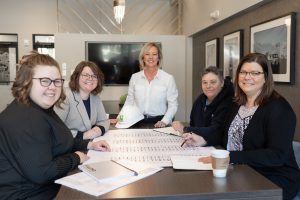 "In the safety world, I would say it's 50-50 so you definitely see women. And they're in all kinds of other roles too," she said. "When I go to industry meetings, there are a lot of women. Project managers, superintendents, architects – and the ones who are actually swinging hammers too. If you have a passion for it, you can get into it."
At Lloyd Companies, the environment for women is respectful and supportive, she added.
"If you find a good company that believes in diversity and inclusion, you can do anything," she said. "It's just an unbelievably professional and ethical company. And we have fun. We work hard and we have fun. It doesn't matter who you are or where you're from. If you fit our culture, we'll take you. We want good people."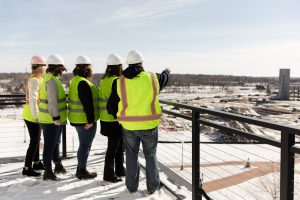 For Diana, helping support construction teams going home safe each day is the best reward. And she's excited to expand her role to begin working with residents of Lloyd apartment communities on ways they can stay safer at home, too.
"We don't want our residents getting hurt, so we're spending time on how we can help them," she said. "Whether it's our residents or our team members, I think they know I'm not there to be the bad guy. I'm there to improve their quality of life."
To see available career opportunities for women and men at Lloyd Companies, click here.