Lloyd's Commercial Real Estate team members Raquel Blount and Jordan Rieffenberger have been honored by an elite industry organization for completing one of the top transactions of 2020.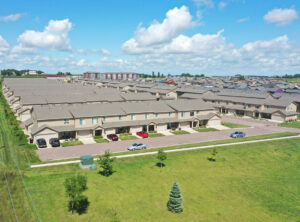 The Society of Industrial and Office Realtors, or SIOR, which represents the world's leading industrial and office brokers, named the pair from Lloyd Companies to its annual Top Transaction Awards in the category of largest dollar volume member-to-member transaction, other alternative assets, for the sale of Diamond Field Commons in east Sioux Falls for $23.5 million.
Jordan and Raquel will also be recognized at the next SIOR conference, in the summer edition of the SIOR Report, on the SIOR website and through SIOR's media outlets.
"We're honored by this recognition from such a well-respected organization," Blount said. "It's reflective of an incredibly active year for our team in 2020, and we're grateful we were able to help connect so many buyers and sellers of commercial real estate despite the upheaval of the last year."
The SIOR Top Transaction Awards are presented to the largest sales and lease transactions, ranked by dollar volume, completed by SIOR members worldwide.
In 2020, 483 SIOR members reported 1,812 transactions, totaling more than 117 million square feet and $10.7 billion USD in leases and sales in the industrial, investment, office, land, alternative assets and redevelopment sectors.
SIOR is the leading society for industrial and office real estate professionals, requiring individuals to adhere to the highest levels of accountability and ethical standards to earn their SIOR designation.
There are more than 3,400 SIOR members in 42 countries, representing the industry's top professionals. Raquel Blount received her SIOR designation in June of 2016 and Jordan Rieffenberger received his SIOR designation in July of 2018.
Congratulations to Raquel and Jordan on this much-deserved recognition.