When temperatures drop, Lloyd Companies' safety coordinator Diana Arnold steps up.
It's not uncommon to find her driving around Sioux Falls delivering hand warmers to construction crews.
"It made me nervous, because they were cold. It's a no-brainer. If your hands are cold, you're more likely to have an accident, because you can't feel your limbs," she said.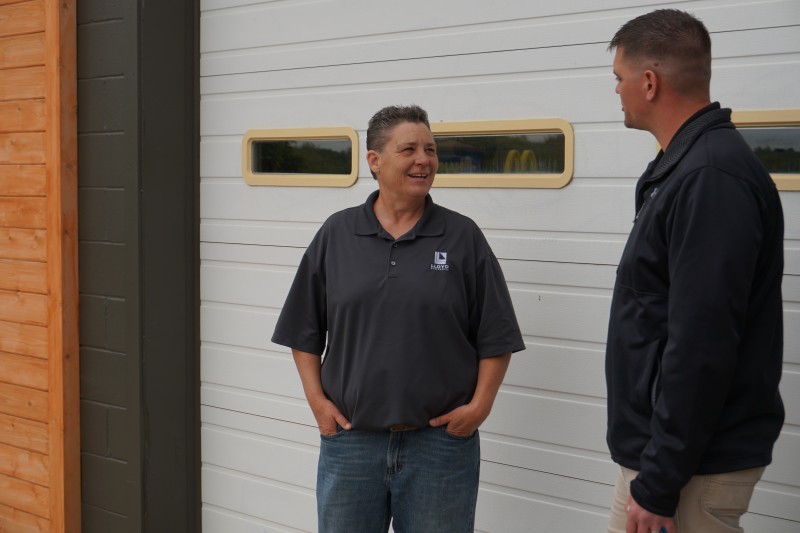 Thinking about the little things and caring enough to address them have helped Lloyd Companies achieve a significant milestone.
The company ended 2016 without a single reportable accident in its construction division.
"To achieve that is a big deal," vice president of construction Wade Behm said.
"We made a commitment a few years back that if we were going to be the company we wanted to be and do the work we wanted to do, we had to make safety top of mind. It had to be present in every work activity and every action we do on a site."
That's where Arnold has been a difference-maker. In addition to holding safety orientations and monthly safety meetings, she has worked with Lloyd Companies' subcontractors to make safety a team effort.
"That was my biggest challenge. I'm not there to be a cop. I'm there to be a team player," she said. "I tried to work with them and tell them why we do things the way we do, so we can all go home safely."
Crews don't just see her when the weather is frigid, either.
She visits all construction and property management sites at least weekly.
When the weather heats up, she brings cooling bandanas and freezer pops. And when it's just a typical day, she brings treats.
"I'm the candy lady," Arnold said. "I bring them candy bars around safety. So I'll throw them a Snickers and say, 'Safety is nothing to laugh about.' I just drive around in my truck and take care of the employees. That's when they realize I'm not there to be a cop. They know I care. And now we actually can laugh together."
Her approach has been so effective that crews now welcome the safety coordinator on their job site.
"When I walk around now, they wave at me and want to show me we're doing it right," she said. "I love it."
So does Lloyd Companies.
"She's doing a stellar job for us, and we're proud of her," Behm said. "She's motivated, and that's great for all of us."
It's especially important to send a message to new construction workers, he added.
"Sometime it's hard for mom and dad to put construction as a position where they want to send their child," Behm said. "But the focus on safety in our industry and especially in our company makes that suggestion easier all the time."