Get ready for a hotel unlike any other in Sioux Falls.
The Lloyd team is moving full steam ahead with design on the Canopy by Hilton, a centerpiece of our Steel District development in downtown Sioux Falls.
"Everything in a Canopy hotel is unique. Everything is localized," said Jennifer Seifert-Brenna, Lloyd Companies Vice President of Hospitality.
"We still have a lot of work to do on all of the little details in design. All the selections are coming together very well, but there are a lot of little things that are going to come into play before we are done."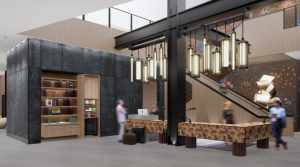 A team from Hilton was in Sioux Falls recently to meet with the Lloyd team and review the progress.
"It was fantastic," Director of Brand Management Harald Han said. "I couldn't be more excited about Sioux Falls. With the park and the location, it's fantastic, I really enjoyed seeing the city and all the attractions."
Canopy by Hilton has grown robustly even through the pandemic. In early 2020, there were a dozen locations. That's grown to 35 hotels, with new properties opening continually.
"There have been a lot of changes and great evolutions of the brand, especially the way we approach food and beverage," Han said.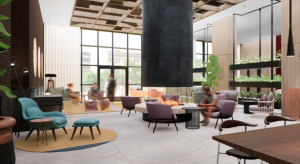 "As long as a guest can get food items all times of day, Canopy doesn't require a true three-meal restaurant. We require signature outlets. That can be a stunning rooftop bar, or a concept that features a local chef or acts as its own standalone restaurant. We think of Canopy as a really great local restaurant with some cool rooms on top of it, because food and beverage is so important."
The 216-room Sioux Falls Canopy will include a destination custom-developed Italian restaurant offering three meals a day, with a bar and lounge that flows to a café-style space for earlier in the day.
"We're excited to share details on all our food and beverage offerings as they come together," Seifert-Brenna said.
"We anticipate significant outdoor dining options, including a pedestrian alley that we're developing between the hotel and our mixed-use building that also will include multiple restaurants. We envision creating a hub of activity there as all those spaces intermix."
The entire vibe of the hotel will be uniquely Sioux Falls, Han added.
"Many hotels have local art on the wall. That alone doesn't distinguish you in the market," he said. "Here, every feature of the neighborhood will try and factor into all elements of the hotel. The entire thing will have a local feel. I think this building is going to tie in seamlessly with the neighborhood, I like the are, and there are nods to the city everywhere."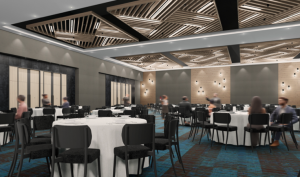 Unique among Canopy hotels, the Sioux Falls location will offer 20,000 square feet of convention space, including multiple ballrooms and meeting rooms.
The next step will be working to build a model hotel room, so the team can finalize every detail before moving forward.
"That's the exciting part. We're now in the super creative part where you can influence a lot of things yet to come," Han said.
Canopy by Hilton is scheduled to open in 2024.