The Cedar Rapids hotel earned Hilton Garden Inn's Brighter Together award for the second quarter of 2022, recognizing its excellence in hospitality and setting the standard for other hotels.
The award recognizes the top 1 percent of hotels nationwide with the highest combined scores from guests in four categories: Overall service, feeling welcomed, problem resolution and room cleanliness. Of the approximately 800 Hilton Garden Inn hotels nationwide, only seven have achieved this top honor.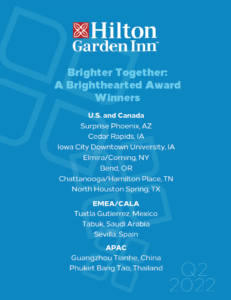 The Hilton Garden Inn Hotel in Cedar Rapids, which is developed, built and managed by Lloyd Hospitality Group, is one of them.
"It's very significant," said Jennifer Seifert-Brenna, Vice President of Hospitality at Lloyd Companies. "In my 30-plus-year career, I've never had a hotel win that award. And the manner in which they did it is absolutely exceptional."
This particular hotel's journey to opening was nothing short of dramatic. During construction, the team was forced to navigate the early days of the pandemic. Then, months before it was ready to open, in August of 2020, a devastating derecho hit Cedar Rapids. Water poured into the building, and while there was no structural damage, cleanup further delayed its opening.
When the 100-room hotel did open, in March of 2021, the pandemic still was curtailing travel, and adjustments were needed operationally to ensure travelers felt comfortable.
"Still, their occupancy has been very good," Seifert-Brenna said. "In this industry, the goal is to be at 100 percent on an index that combines occupancy and average daily rate. That's when you've reached stabilization. In most cases, it takes six to 18 months. In this case, they reached it by June of 2021 and have been averaging 135 percent, so it's just outstanding."
The guest scores that led to Hilton's honor "are out of our control," Seifert-Brenna added. "Hilton sends guests an email after they check out, and while we can see their responses they are sent directly to Hilton."
The key to this hotel's success is its team, she emphasized.
"It's the people. This leadership team is one of the best I've ever worked with, and they have faced significant challenges, including staffing," she said. "There are days the executive housekeeper, director of sales and key members of the team are cleaning rooms because of significant short staffing. And even with all those struggles they continue to put their heart and soul into it and are exceptional."
The hotel includes a restaurant and bar that is open to guests and the public, an expansive patio, indoor pool, spacious fitness center and a ballroom that can accommodate up to 250 guests banquet-style.
"Leisure and transient business travel are strong. They have good weekday occupancy and weekend business with teams traveling," Seifert-Brenna said. "And the convention business is still to rebound, so we know there are even more opportunities ahead for this outstanding team."
Experience the brighthearted hospitality the Hilton Garden Inn Cedar Rapids team provides and book your stay.